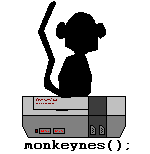 Home
Development
OpCodes
Technical
Screen Shots
Downloads
JavaDocs
NES Specs
Links
Help
Feedback
Admin
monkeycoder();
MonkeyNES Downloads
You probably came to this site for this page, and it would appear you have found it.
MonkeyNES Package Format
MonkeyNes-YYYYMMDD-HHMM.zip - At this point of development the packages are simply identified by the date and time they are made. As a fairly obvious rule, the package is more recent if the date is more recent.
Downloads
This is the complete collection of research documents I've assembled up to this point for this project. Everything I'm doing in MonkeyNES is based off of this and it's an invaluable collection for anyone that wants to create an emulator. Warning: This package is over 24MB!


This a digitally scanned in version of the original (1976) programmers reference manual for the 650x processor family. This file is also included in the research package, but is offered separately for ease of download. Complete with incredible verbosity and even several examples this is arguably the single best research document in my collection for the CPU. Warning: This file is over 11MB!


This is the current MonkeyNES package.


Older MonkeyNES Packages