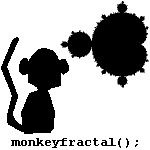 Home
Development
Screen Shots
Downloads
JavaDocs
monkeycoder();
MonkeyFractal Downloads
You probably came to this site for this page, and it would appear you have found it.
MonkeyFractal Package Format
MonkeyFractal-YYYYMMDD-HHMM.jar - At this point of development the packages are simply identified by the date and time they are made. As a fairly obvious rule, the package is more recent if the date is more recent.
Downloads
This is the current MonkeyFractal package. It is in the form of an executable JAR file. It is self sufficient as a program, and can also be used as a library to create your own FractalPlugins and RenderPanels.
To use this file you can run it with the following command:
java -jar MonkeyFractal-YYYYMMDD-HHMM.jar
Older MonkeyFractal Packages